Instructions for Presenters
Audio: Headphones are essential for presenters
Browser: Use Google Chrome
Please arrive early so you can practice the controls and be granted Presenter admin privileges.
To present to an in-world presentation screen: 
1. Click the Presentation Screen object once to move your camera into "Perfect View"
2. Click the Presentation Screen a second time and you will be prompted to Share Screen or Webcam via the media controller black pop-up box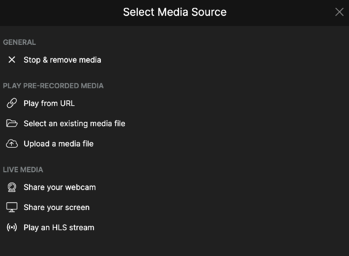 3. Choose what you'd like to share, and it will cast to that screen object.

To stop casting, press stop or click the context popup and choose another broadcast distance. These aren't related to the screen object you're sharing to.
Once casted to, a screen object will continue to appear in the "distance" pop-out, so as to facilitate reconnecting from that menu easily (instead of having to click the screen object again)
Screen object names will automatically update in both the bottom toast, as well as the context menu.
Sharing Webcam to one screen & Screenshare to another simultaneously
Any space administrator should go to file-settings and turn on "allow context options" under the "bottom menu bar" section.

Users with the proper permissions will now see a broadcast distance option for each source button: mic, webcam & screenshare. 

Click the 2nd screen, choose the other source you want to send to that screen (in the screenshot below, I'm already casting my screenshare to a screen object, so now i'm going to share my webcam to another screen object)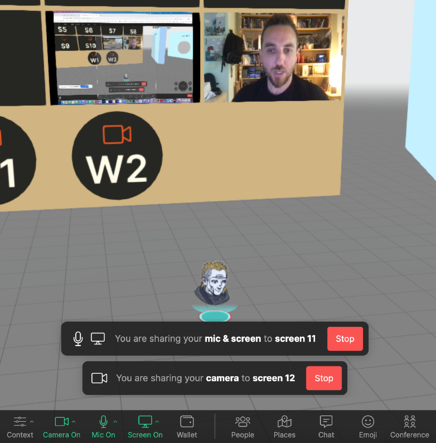 Broadcasting Audio/Video to the Whole Space
Assuming you have the correct permissions, you can also broadcast to the whole space. Simply click the context menu at the far left of the bottom menu and choose "everywhere."
This works as much for screensharing as it does for your webcam.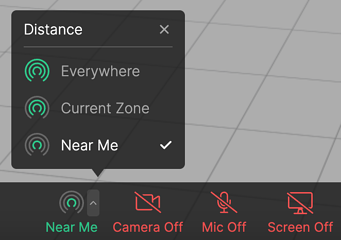 If you're in a presentation zone, take a look at this guide.
Please arrive a few minutes early so that we can give you admin status to use these controls.
Common Issues:
You have not enabled camera or microphone permission at the Chrome browser Level. 
You are not connected to the appropriate Audio or Video input or output. Adjust this via User Profile (Click your avatar image in the bottom-lefthand corner) User Profile Settings Audio & Video Tab and Adjust input/output options via dropdown menu
You have not selected the appropriate share option from the prompt 
If that does not fix the issue, please also check: System Preferences Security & Privacy. Select the Screen Recording tab and choose the apps that you want to allow to record the contents of your screen.
**Note the platform does not support presenters screen sharing PowerPoint presentations that contain video content. Please ask your project manager for guidance on the best way to share video content.