This guide is for Vatom Business accounts.
If you are looking to schedule a private or larger-scale event in your space, please get in touch! Email us at support@vatom.com with some basic information about your event, including a date and duration.


Business accounts will see a tab for "Events" in the header of the Spaces homepage.
Events create a custom "event link" for guests to arrive to. When an event is live, Admins and Guests will not be able to access the space through the standard space link. They must use the Event link.
Multiple "Events" can be running simultaneously in a single space in order to manage attendance and entry times.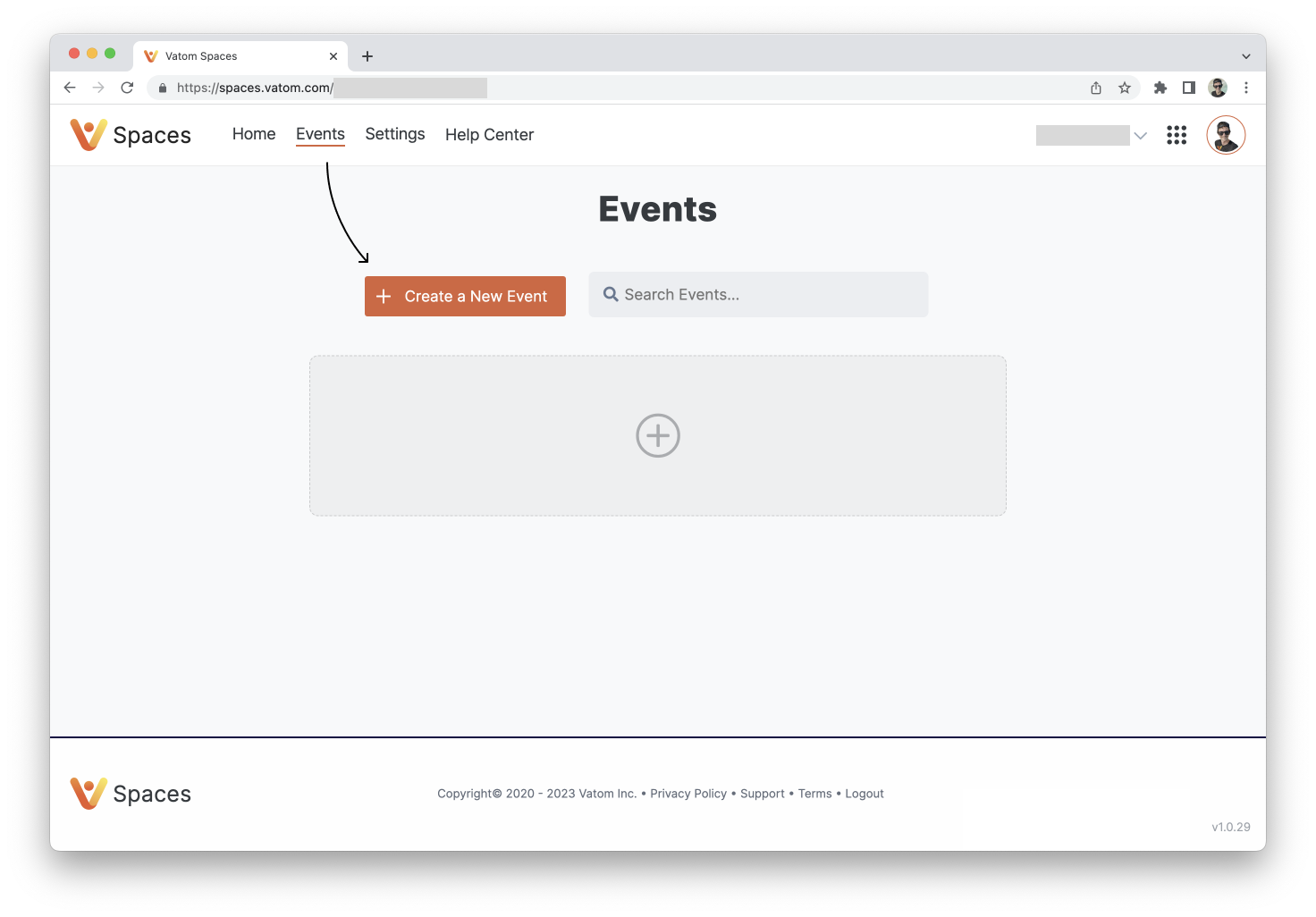 Choose "Create a New Event".
1. Enter the Basics
Title: A title for your Event (100 characters max)
Image Thumbnail: Small image to promote the event. (up to 500px)
Subtitle: A short description about the event and (200 characters max)
Start Date & Time: Set a date and time for your event to start.
End Date & Time: Set a date and time for your event to end.
2. Choose the Space the event will be hosted in
Select from the dropdown of all spaces created in the Business.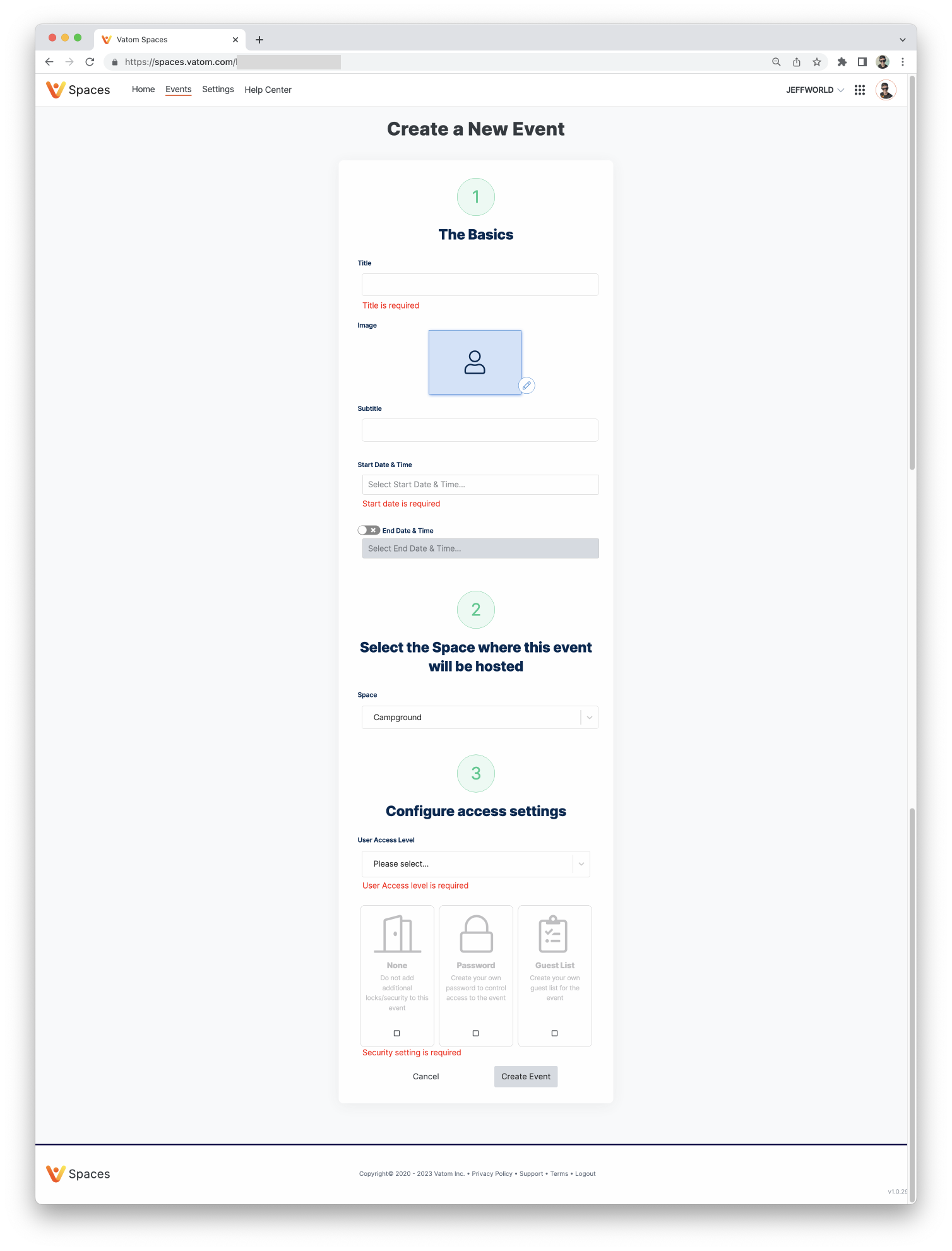 3. Configure Access Settings
User Access Level
Choose the login requirement as a Spaces User
None: Allow guests to come in as Anonymous, without a name, email or Profile Picture
Basic Profile: Add a Name and Profile Picture, but no formal login.
Require Login: Require a Vatom Login with email/sms verification.
Require Login is recommended for events where digital objects can be found or earned, as the NFT Wallet requires a logged-in Vatom account.
Security Setting
Set the Event-level security to control who can access the space from the Event Page
None: No additional security. Allow anyone with the event link to enter.
Password: Set a password for the event. Guests must have the event link and password to enter.
Guest List: Create a guest list of specific email addresses. Guests must log-in using an email address that is on the guest list.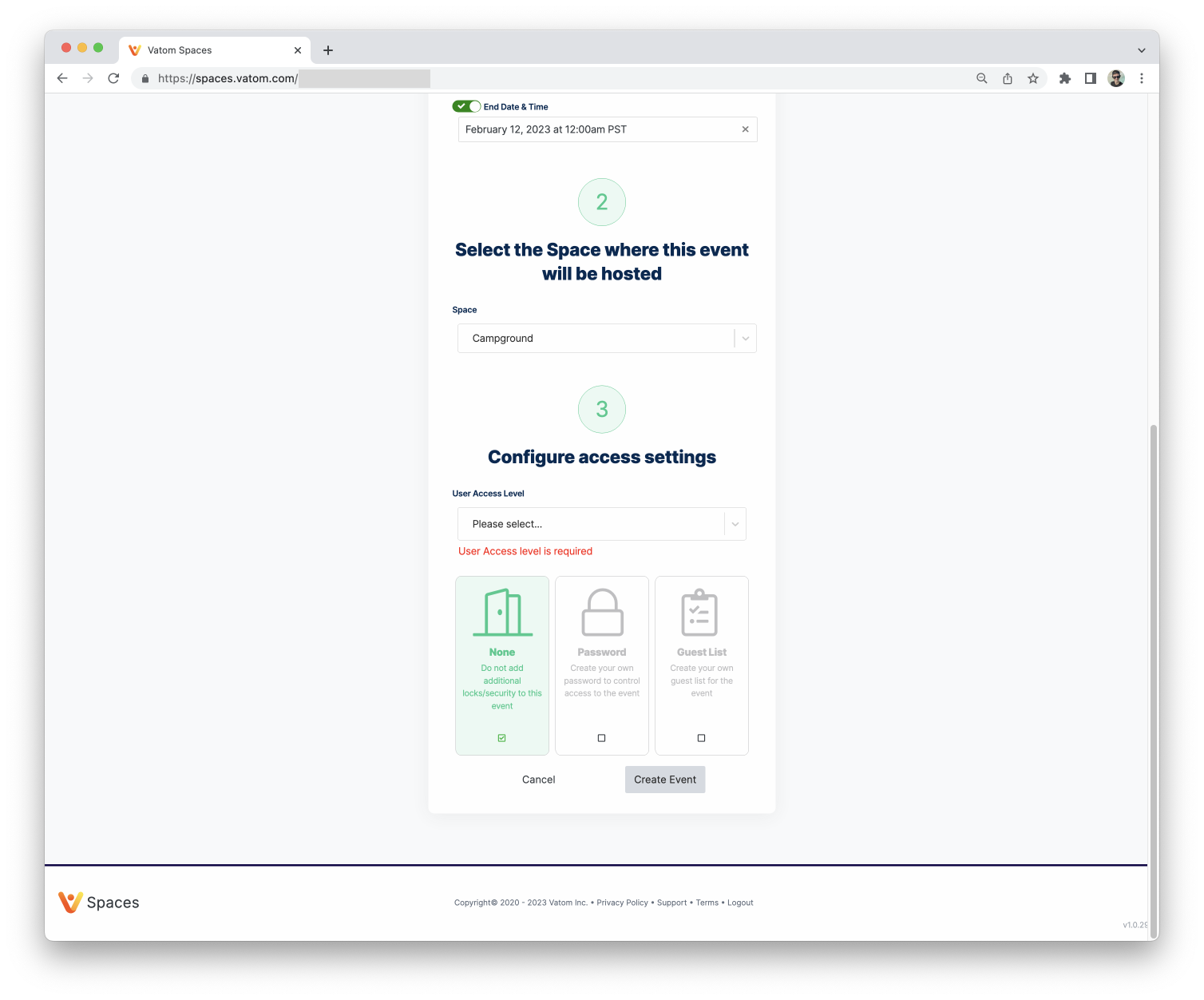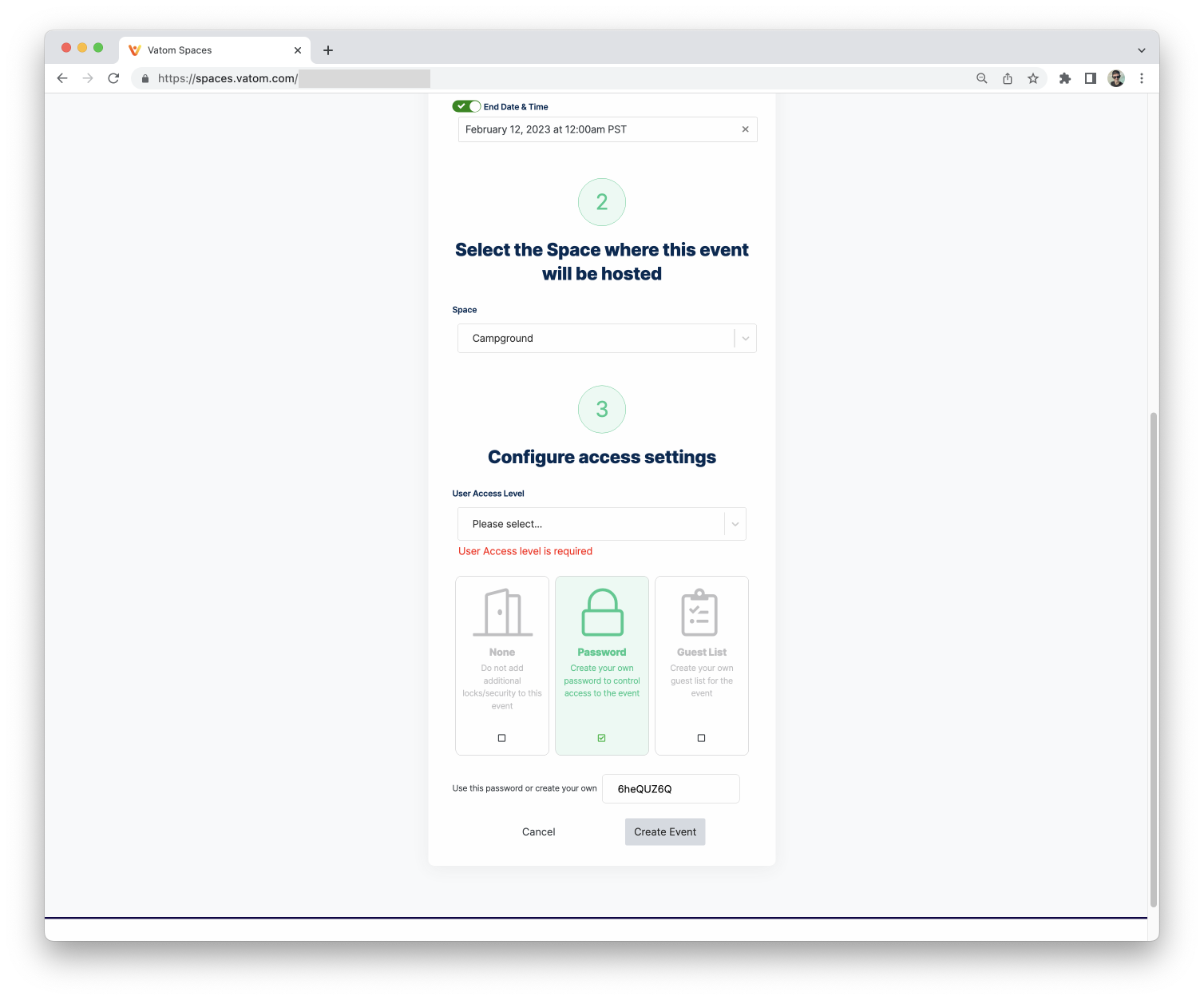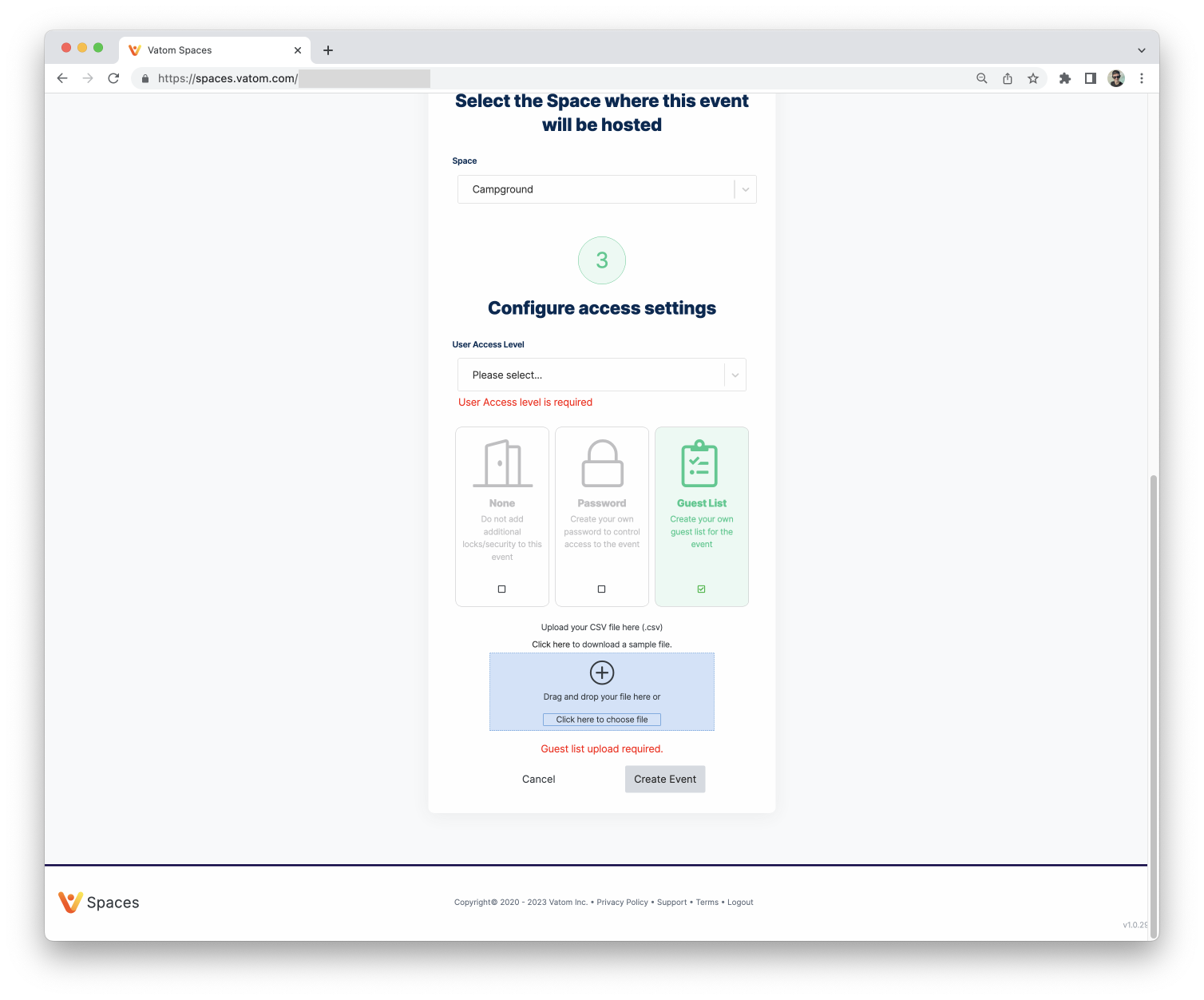 Guest List CSV
The Guest List is uploaded as a CSV document using the following template. It is also available as an attachment to this guide. Only Name and Email fields are required to be filled but all header columns must match the template.
Name: (required) The guests name
Email: (required) The guests' email address. This exact email address must be used to login through the events page.
Role: (optional) Set a pre-determined role for Admins and Presenters
Entry Point: (optional) Set a custom entry position for this user.
Company Name: (optional) Pre-fill a Company name in this user's profile.
Job Title: (optional) Pre-fill a Job Title in this user's profile.