The Updated Media Plugin now has a Insertable Object called "Media Screen". With the plugin installed, open the Insert dropdown, choose Insert > Objects > Media Screen. Use the Tools to place the screen on your wall or elsewhere in your scene.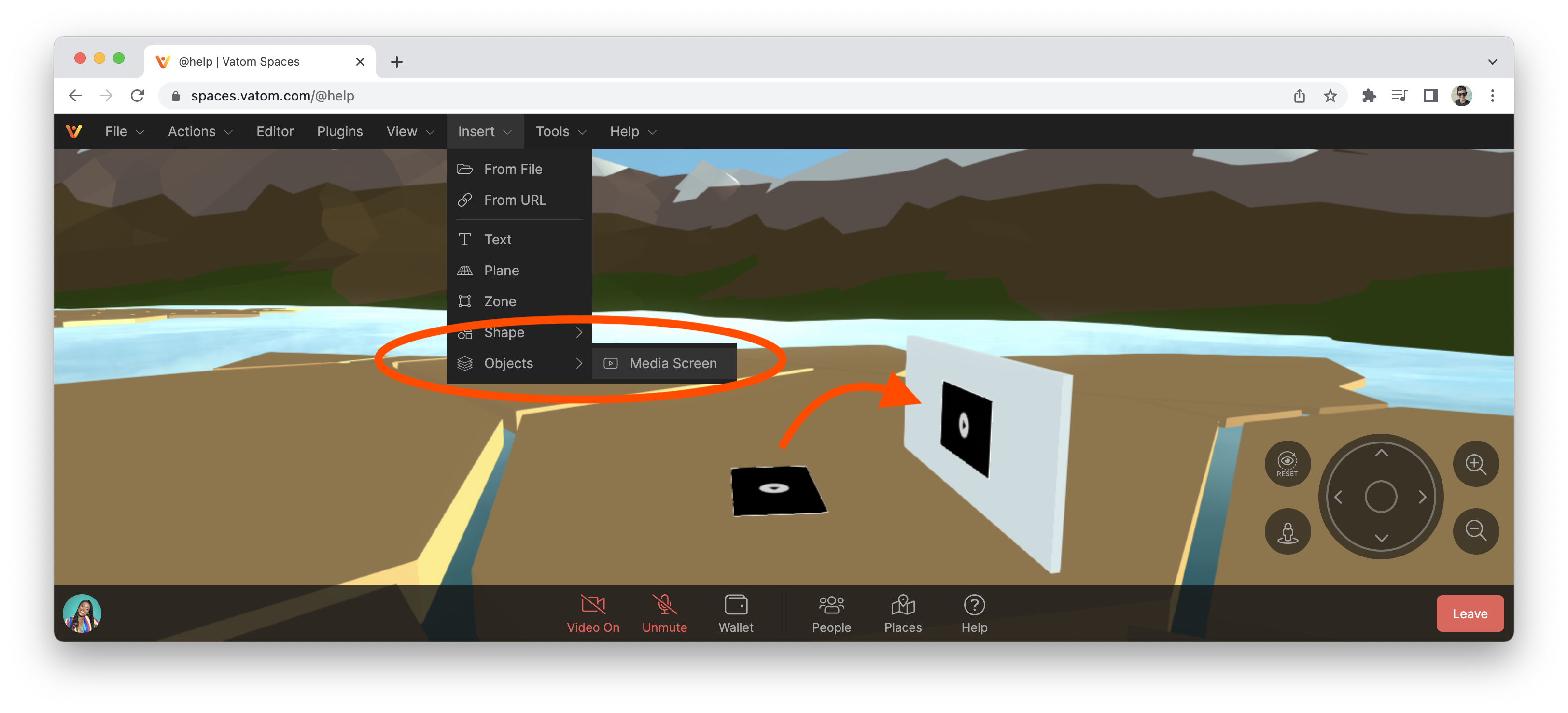 Build your own Media Screen
Using Components from the Media Plugin and 3D Web Frame Plugin you can turn any flat plane into a media-playing screen. Share your screen or webcam, play an MP4 video or HLS Live Stream, or embed media from outside sources like YouTube and Vimeo.
We've added some TV Templates at the bottom of this page. Feel free to download and use them as Screens in your space.
Add the image directly and scale to 16x9, or add the image to your Rectangle as the "Texture" image.
Add Youtube & Vimeo Videos with the Web Frame Plugin
Install "3D Web Frame" Plugin
Create Plane or Rectangle
Add "Web Frame" Component to TV screen Object
Add URL in Web Frame Component
Adjust View Distance
The "3D Web Frame" plugin does not have audio attenuation, meaning it only plays in full volume and does not fade out as you walk away.
Changing any "Effects" in the World Editor will disable the 3D web frame. Reset all World Effects to Default
YouTube
For YouTube videos, use the following embed code. Replace "VIDEOCODE" with the Youtube Video Code usually found after v= and before the question mark ? "https://www.youtube.com/watch?v=aBc12DeF3g"
https://www.youtube.com/embed/VIDEOCODE?autoplay=1
You can use the following attributes after the Embed Code to utilize certain embed elements. The first added element uses "?" instead of "&"
| | |
| --- | --- |
| Description | Code |
| Autoplay | &autoplay=1 |
| Muted | &mute=1 |
| Hide Controls | &controls=0 |
| Show Controls | &controls=1 |
| Hide Fullscreen Button | &fs=0 |
| Loop Video | &loop=1 |
Vimeo
Use the following Embed Code for Vimeo videos. Replace "VIDEOCODE" with the Vimeo Video Code. "https://vimeo.com/123456789"
https://player.vimeo.com/video/VIDEOCODE?autoplay=1&loop=1&autopause=0
To Mute a Vimeo Embed, add the following to the end of the embed URL.
&muted=1 (muted)
TV Template Images
Why are these images squished? These are 16x9 standard screens pre-optimized to 512 x 512px for Vatom Spaces. Add these graphics as the "texture" of a Default Rectangle and you have a standard 16x9 TV screen.