Use Presentation Zones to create areas for Q&A, Presentations, or other situations for Microphones and Crowd Control.
Presentation Zones are used to create areas for Question & Answer sessions, Panel Discussions or other situations where you need multiple voice of God microphones to speak to a large audience, or to control audio and pass microphones only to select guests.
Create a Presentation Zone
Install the Plugin for Presentation Zones
Create new Zone: Insert > Zone

This creates this wireframe cube, which is called "zone". Resize and move the zone shape to the desired location.
Place your Presentation Zones on landmarks or create simple colored shapes to designate the area that the presentation zone covers.
Select Zone and add Component:

Components > Presentation Zone

Name: Nickname for this Presentation Zone
Description: A description for the presentation zone

Presentation Zone Extension can be added to additional Zone Objects to extend the range or add additional spots that are considered part of the Presentation Zone.

(Main Zone ID can be copied just below the Name in Object Properties)

Additional Zone Properties

Info > ☑️ Hidden: Hide the Zone outline
Info > ☑️ Disable Click: Disables Admins/Editors from clicking the zone in the main window. Prevents auto-selecting the zone when trying to edit objects within it.
Re-name your Zones in a way that you can find them! If Click is Disabled, you can only edit the zone properties by finding/searching in the Editor Window.
Using a Presentation Zone
Guests
When anyone enters a Presentation Zone they are shown a popup at the bottom of the screen. 

Choosing "Yes" opens the People Menu. You can also select the People Menu without clicking the popup.
When in a Presentation Zone there is now a new tab in People for the specific Zone.a
Admins and Guests can click Current Zone in the broadcast distance menu. For guests, this will intiate a request for zone-wide broadcast, and enter that guest into the queue system.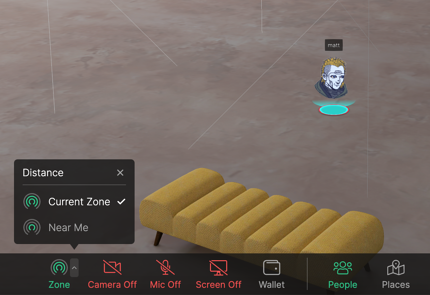 Admins & Presenters
Admins have Zone-Wide Broadcast Access & Mute Zone Functionality to mute everyone within the Zone
Presenter Role can use Megaphone and give zone-wide broadcast access.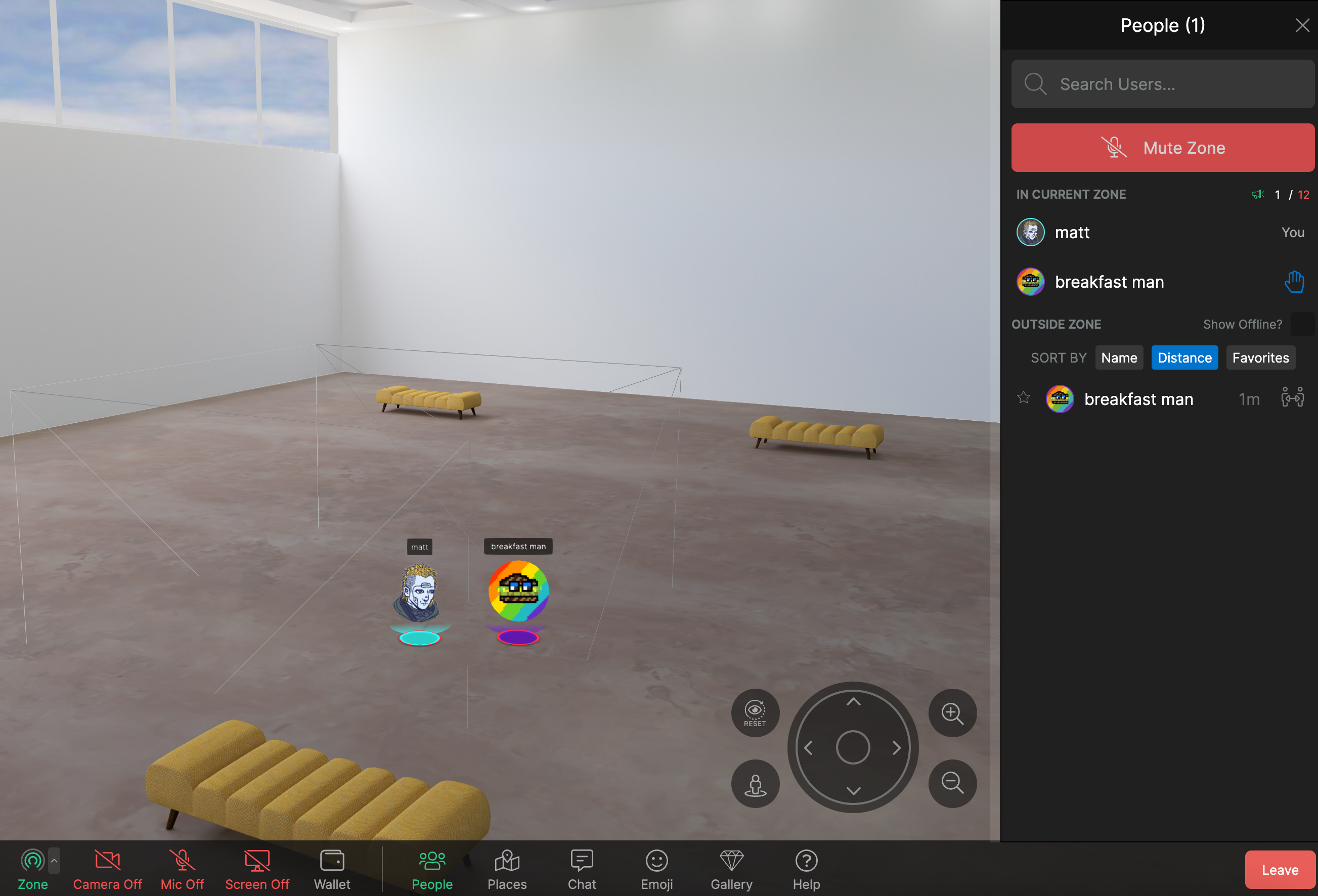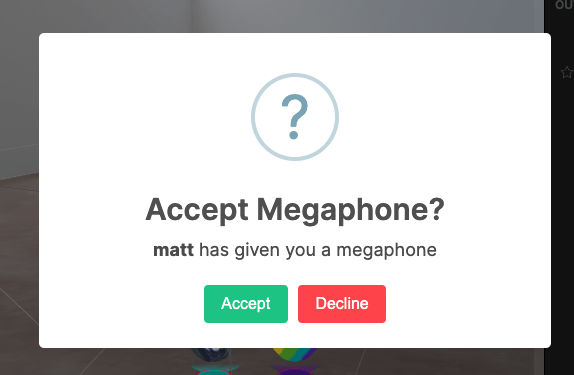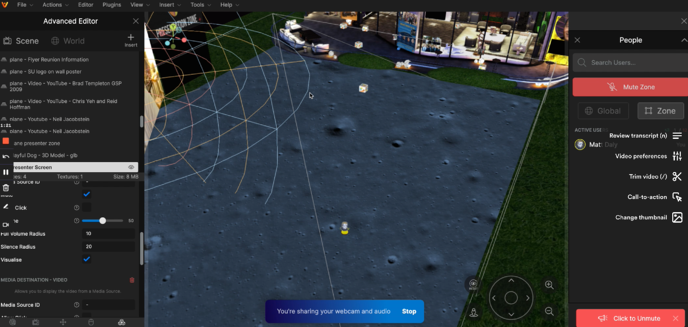 Ensure screen components are muted. Let the presentation zone audio govern. 
Consider leaving play distance to full-space if you're not running multiple stages
Use broadcast to make announcement to the whole space regularly (ensure your megaphone is muted while doing so, and ensure you're disconnecting from broadcast when you're done with the announcement)